Wonderful Experiences In China
Arvin (Sweden)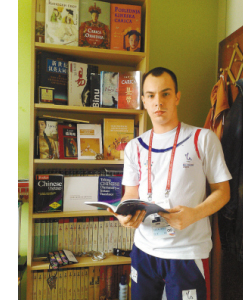 I must analyze this internship within 2 aspects: the human and the professional aspects.
First of all, let me say that it is really hard to come in a foreign country, a country which I don¡¯t speak the language and which is so different from my home country (Sweden). So I had some worries before coming and was asking myself how I will manage to live in Ningbo for more than 2 months. All these worries disappear quickly thanks to my work colleagues who also become my close friends. Indeed, they integrated me easily in their group as if I was one of them for ages. And generally speaking, my friends are the perfect image of Chinese people in my eyes: warmhearted, friendly and helpful.
On the other hand, this experience in China was my best experience ever had, because it made me think about many things, such as Chinese people behaviors, the ways of expressing themselves, the ways of doing businesses¡­ so many different things as regards to European countries. I knew that China was an old civilization but after having seen the old buildings, temples, the Great Wall¡­etc, then I realized that I was somewhere unique with a long history. So I loved China, and particularly Ningbo.
I thank my colleagues who trust me. I also thank NOWISI Internship who find me this internship and followed my folder well.