Wonderful Experiences In China
Nancy (Belgium)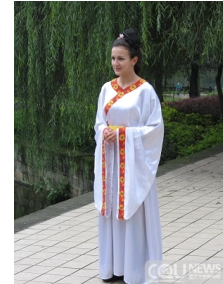 For me this internship has been a very welcome experience in every way! I think I have been very lucky in receiving such a good position and this opportunity altogether. What I thought was the nicest thing, was the fact that I was welcomed to China immediately the same day I arrived by the NOWISI worker. Without any knowledge of Chinese, the fact I received a SIM-card, a map, and a travel card, was very useful indeed! I also liked the kung fu event that was organized by NOWISI.
It is useful to have a place where to go and to get to know China before moving on your own, and I could have stayed there for the whole time, unless I wouldn¡¯t have wanted to experience living on my own. It was also a good place to meet new friends and get a network of people with whom to spend some of the free-time.
To sum up, I personally have enjoyed my time in China very much. The impression I have gotten from this internship is very positive. Many thanks to NOWISI for making this happen; keep on working hard to make it even better!