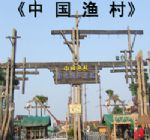 China Fishing Village is situated beside the Shipu Harbor, which is one of the four largest multitude fishing harbors in China.
It is composed of the small town of European and American flavor that incorporates the theme park of China Fishing Village, the fishing culture and folk custom street, the Song imperial city and sojourn, Shipu fishing harbor, Shipu ancient street, on-sea amusement park, Tantou Mountain, fishing mountain island and Fishermen wharf, etc.
China Fishing Village strives to overally show the theme of "fishing culture and folk custom tourism" and leisure tourist characteristic of "seaside marine tourism" and become the most characteristic and largest-scale marine culture and leisure city all over the country.